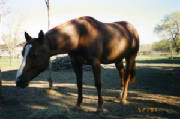 Pretty Mega Miss:
Out of the Pretty Posh champion bloodlines. Mega stands at 15 hands and has beautiful color in her background (Duns and Palominos). She has already produced two loud colored stud colts. One is a paint tobiano and the other a few spot leopard. She is a great addition to our breeding program. Currently in foal to our Quarter Horse Stallion.
Brandy Stryker:
Is a beautiful loud colored bay Tobiano. She is a registered american paint pony and we are expecting our first paint pony baby this summer. She has quarter horse champions in her pedigree-- starting with Skipper W. She is a mare out of My Star Stryker.
Little Miss Buttercup:
Buckskin pony registered with the american quarter pony association. She is not quit a brood mare yet, but look for her in the show ring with my niece. She is beautiful and stands at 11.3 hands. She will not be bred until 2005.